Welcome to a breathtaking journey through the enchanting realm of castle accommodations nestled in the splendid landscapes of Yorkshire, United Kingdom. Prepare to be whisked away into an era of timeless elegance and regal charm as we explore the finest fortresses transformed into luxurious havens for discerning travelers. Each castle hotel in this awe-inspiring region radiates its own unique character, boasting ancient walls that steep themselves in history, while offering an array of modern comforts and indulgences.
Embark on a captivating escape where fairy tales come alive amidst majestic turrets, secret passages, and opulent interiors. Yorkshire's castle hotels serve as veritable gateways to bygone eras – evoking memories of knights and princesses, battles fought and won, all set against a backdrop of scenic beauty unsurpassed. Whether you seek moments of tranquility amidst sprawling gardens or crave adventures exploring nearby moors and dales, these castles will envelop you in their storied pasts while pampering you with unparalleled opulence. Discover the allure of these majestic edifices that stand majestically amidst lush landscapes – beckoning you to immerse yourself in a world both grandiose and comforting. So pack your bags and prepare for an extraordinary sojourn where medieval marvels meet contemporary luxury at every turn!
Top Hotels in Castle in Yorkshire
The Grainary Boutique Hotel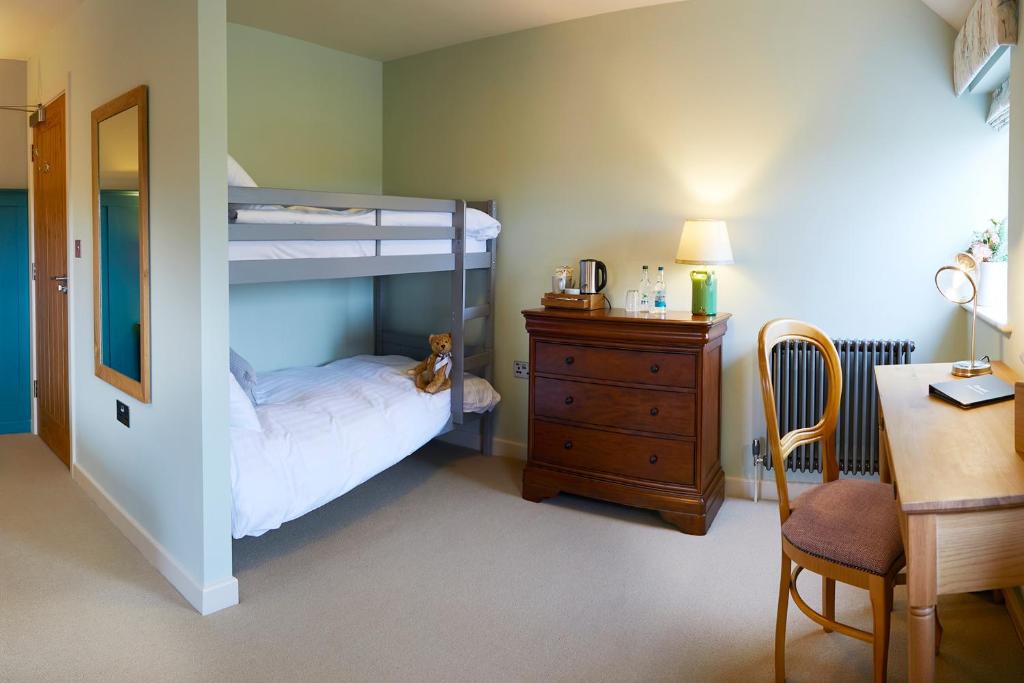 Located in the picturesque North York Moors, The Grainary Boutique Hotel offers guests a scenic countryside retreat. Situated on a 40-acre farm in Harwood Dale, this hotel boasts breathtaking views and an abundance of wildlife. Each of the 15 modern and colorful rooms feature en suite bathrooms, Freeview TV, and a welcome tray with tea, coffee, and biscuits. Surrounding The Grainary is Harwood Dale Forest, which provides plenty of trails for observing birds such as night jars, as well as roe deer, badgers, foxes, and dragonflies. Guests can enjoy free parking at the hotel and conveniently explore nearby attractions like the seaside town of Scarborough just 15 minutes away or historic Whitby reachable within a 20-minute drive.
Pros:
– Idyllic location in the North York Moors with beautiful countryside views
– Abundance of wildlife in Harwood Dale Forest surrounding the hotel
– Modern rooms with en suite bathrooms and all necessary amenities
– Convenient access to nearby attractions such as Scarborough and Whitby
– Free parking available for guests
Weetwood Hall Estate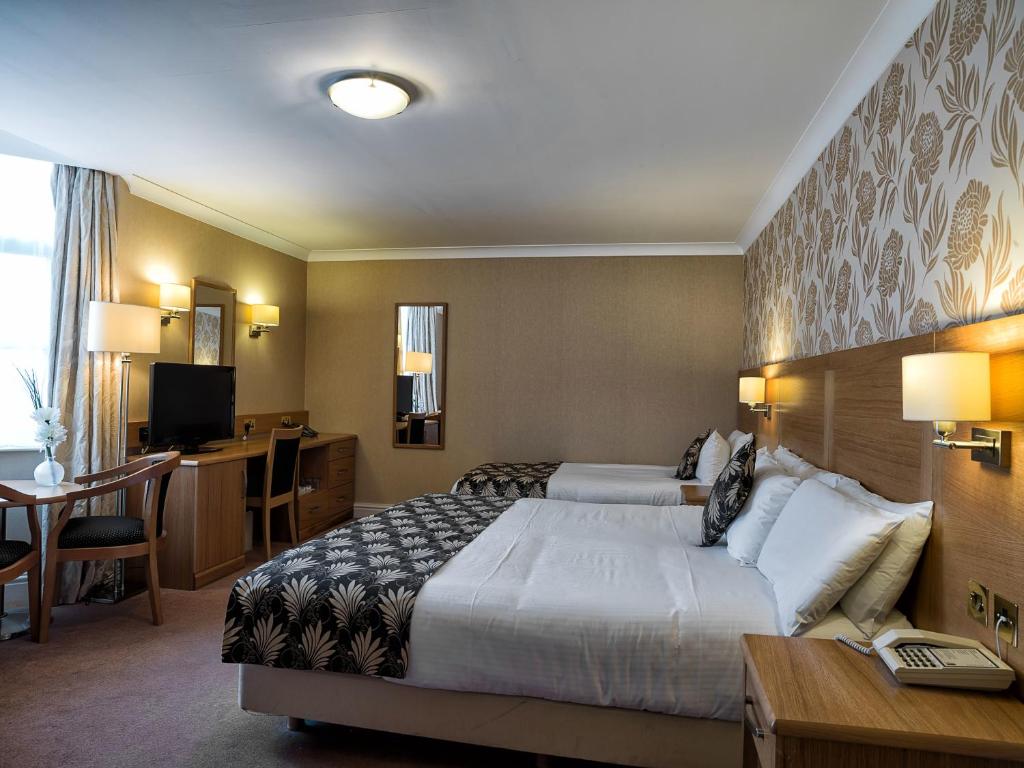 Set in 9 acres of wooded grounds, Weetwood Hall Estate is a charming 17th-century manor house situated just outside Leeds center. This 4-star hotel offers a tranquil retreat with its beautiful surroundings and convenient location. Guests can enjoy the award-winning pub, The Stables, which features a cobbled courtyard and shows Sky Sports. The hotel is also within close proximity to Headingley Stadium and all three Leeds universities. The contemporary bedrooms are equipped with modern amenities including flat-screen TVs with Sky Sports and Video Cast, work desks, Wi-Fi access, toiletries, and tea/coffee making facilities. Dining options are plentiful, with the Woodlands Restaurant serving a delicious hot and cold buffet breakfast each morning, while the Convive restaurant offers a varied menu including healthy options, vegetarian dishes, and even al fresco dining. For golf enthusiasts, discounted rates are available at Cookridge Hall Golf Club which is just a short 10-minute drive away.
Pros:
– Stunning setting in 9 acres of wooded grounds
– Award-winning pub with Sky Sports
– Convenient location near Leeds center and airport
– Contemporary bedrooms equipped with modern amenities
– Variety of dining options including healthy choices and al fresco dining
Whitley Hall Hotel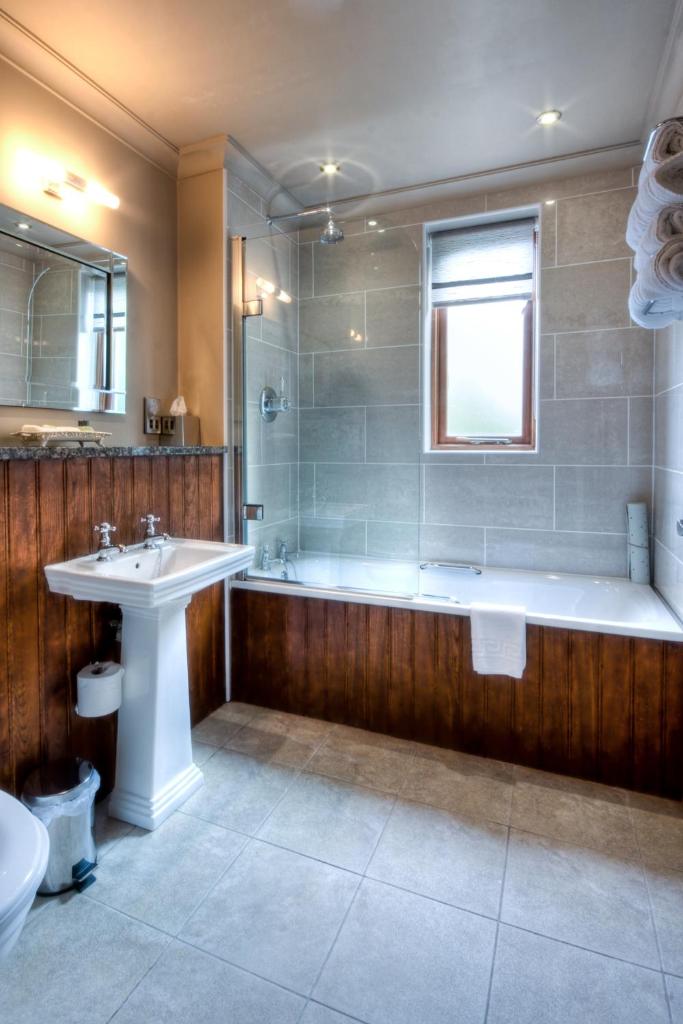 Whitley Hall Hotel is an enchanting 16th century mansion concealed by lush ivy, providing a refined and intimate atmosphere just north of Sheffield city centre. Conveniently located near junction 35 of the M1, this historically rich and stylish hotel has recently undergone a grand refurbishment. Surrounded by picturesque gardens adorned with mature trees and two serene lakes, guests can revel in the tranquility of nature. The hotel's restaurant is a culinary delight, having been honored with an AA Rosette for its exquisite cuisine. For those seeking a touch of modernity, the newly opened Parker Wing offers rooms with charming Juliet balconies. With Meadowhall Shopping Centre only a short drive away and easy access to major motorways like the M1, M18, and M62, Whitley Hall Hotel combines timeless elegance with convenient proximity to nearby attractions.
– Convenient location near junction 35 of the M1
– Beautiful gardens with mature trees and tranquil lakes
– Highly acclaimed restaurant serving delectable cuisine
– Charming Parker Wing rooms featuring Juliet balconies
– Easy access to Meadowhall Shopping Centre and major motorways
Other places to stay in Yorkshire
Castle Hotels in Downtown Yorkshire
Castle Hotels in Downtown Yorkshire offer a unique and enchanting experience, allowing guests to step back in time and immerse themselves in the rich history and grandeur of these magnificent properties. With their majestic architecture, stunning interiors, and beautiful surrounding landscapes, these castle hotels are the epitome of luxury and provide an unforgettable stay for travelers seeking a truly magical escape.
Rogerthorpe Manor Hotel BW Signature Collection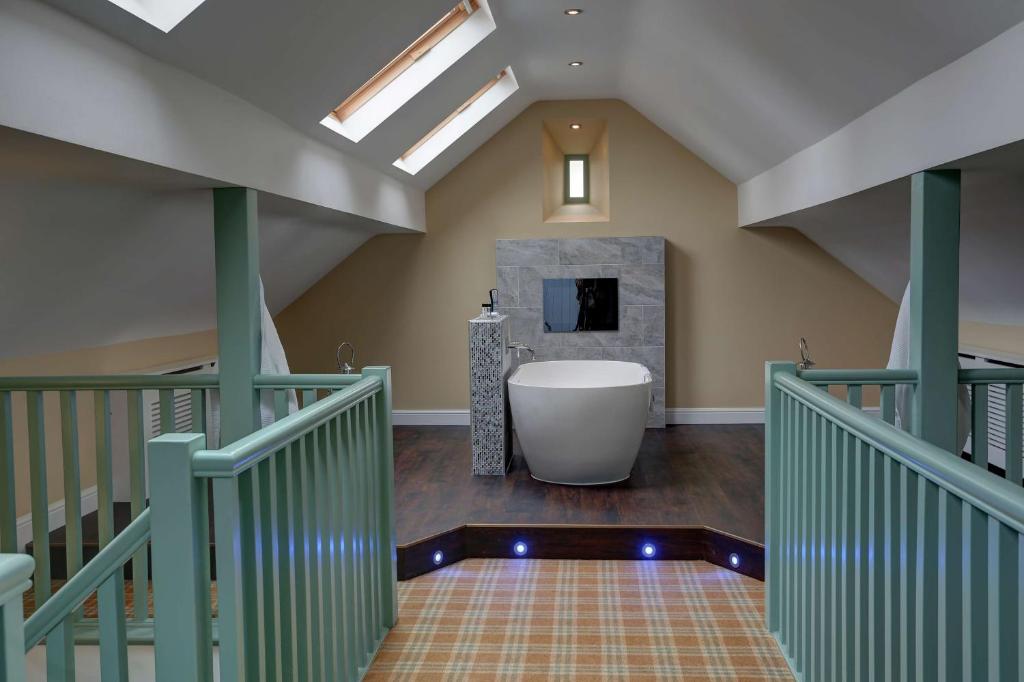 Dating back to 1610, the Rogerthorpe Manor Hotel BW Signature Collection is a charming castle hotel that offers guests a glimpse into history. With its picturesque countryside location, this hotel provides an idyllic setting for a relaxing getaway. The property features well-appointed rooms equipped with modern amenities including fully interactive 32-inch TVs and memory foam mattresses. Guests can enjoy delicious meals at the traditional restaurant and take advantage of free Wi-Fi throughout the hotel. Additionally, this hotel offers convenient access to the M62 motorway, making it easy for guests to explore the surrounding area. Other highlights include free parking facilities and a warm and welcoming atmosphere.
– Charming castle-like ambiance
– Modern amenities in well-appointed rooms
– Picturesque countryside setting
– Traditional restaurant serving delicious meals
– Convenient location with easy access to M62 motorway
Goldsborough Hall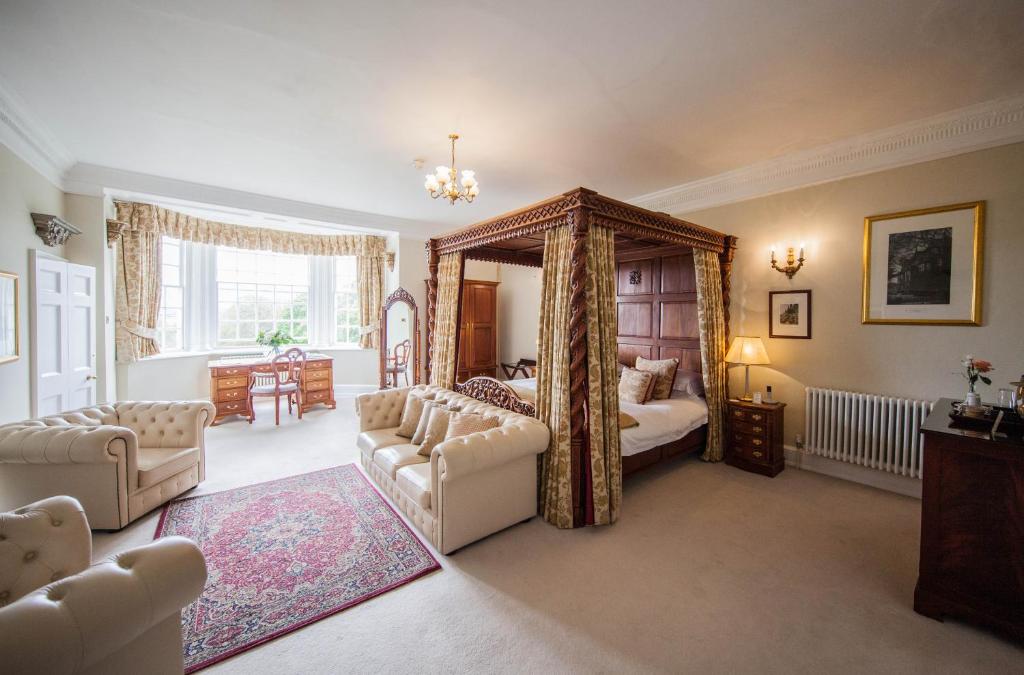 Located in the beautiful North Yorkshire countryside, Goldsborough Hall is a magnificent stately manor that was once home to Princess Mary, Queen Elizabeth II's aunt. Surrounded by stunning grounds and offering unspoilt views over parkland, this 400-year-old manor provides a grand setting that perfectly reflects its rich history. The main hall suites boast luxurious features such as Jacobean hand-carved four-poster beds, ivory leather chesterfield sofas, 50-inch plasma-screen TVs, iPod docking stations, and private bathrooms with spa baths and wireless controlled monsoon showers. Guests can also enjoy free WiFi throughout the property. While accommodation is offered on a room-only basis, guests can indulge in exquisite dining options at an additional cost including the 3 AA Rosette gourmet restaurant and a full Yorkshire breakfast. Ideal for a relaxed and romantic getaway, Goldsborough Hall offers an enchanting experience in one of England's most picturesque regions.
– Stunning location in North Yorkshire countryside
– Luxurious suites with elegant furnishings
– Gourmet dining options available
– Beautiful grounds with unspoilt views
– Rich historical significance
The Coniston Hotel Country Estate & Spa – Skipton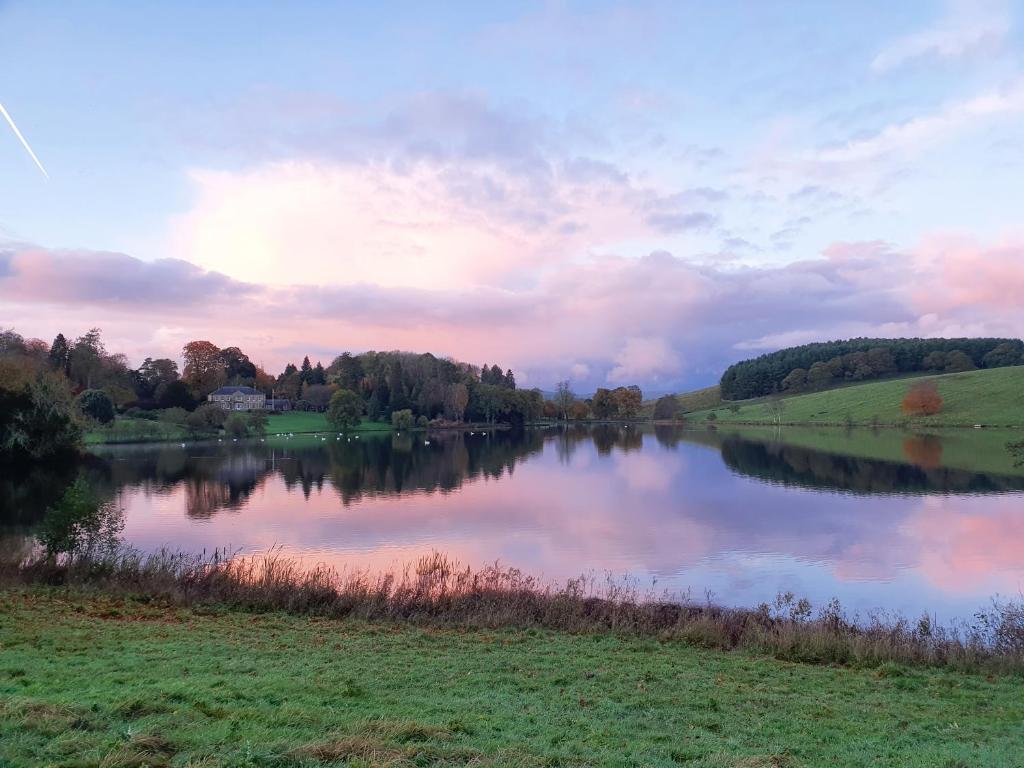 Nestled within a sprawling 1,400-acre estate, The Coniston Hotel Country Estate & Spa in Skipton offers a luxurious retreat surrounded by the stunning Yorkshire Dales. Indulge in delicious dining options that showcase the region's culinary heritage, from fusion cuisine at Blossom Kitchen to traditional favorites at The View with its panoramic windows overlooking the lake. Relax and rejuvenate at Nàdarra Spa, an award-winning sanctuary offering pampering treatments and soothing spa days. Outdoor enthusiasts will appreciate the Land Rover Experience, where highly-trained experts guide thrill-seekers through rugged landscapes. For those interested in shooting sports, The Coniston Shooting Ground is renowned as one of the best in the country. With elegant event spaces and activities like fishing on their picturesque lake available, this castle hotel provides a perfect setting for all kinds of celebrations.
– Scenic views of the Yorkshire Dales
– Gourmet dining showcasing local produce
– Award-winning spa with indulgent treatments
– Land Rover Experience for thrilling off-road adventures
– Excellent shooting grounds for sport enthusiasts
Cheap Castles to Stays in Yorkshire
Yorkshire offers a range of affordable castle hotel options for travelers seeking a taste of medieval charm without breaking the bank. With their rich history and picturesque surroundings, these budget-friendly castles provide a unique and memorable stay for visitors exploring the stunning Yorkshire countryside.
The Devonshire Fell Hotel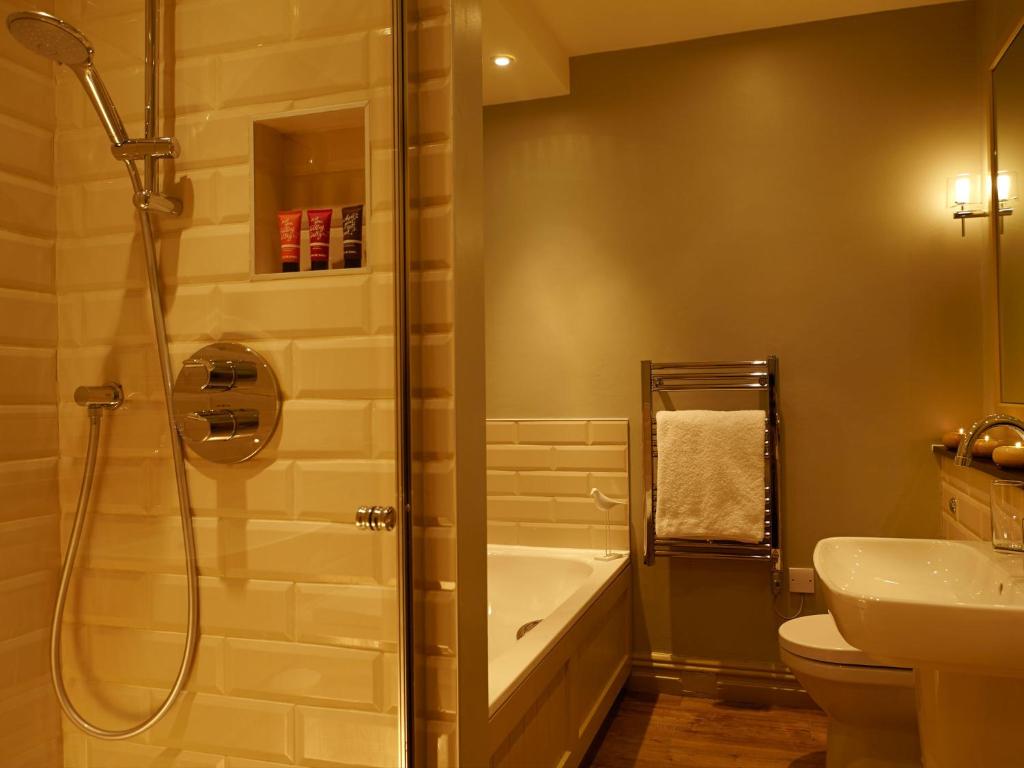 The Devonshire Fell Hotel is a charming retreat located in the picturesque village of Burnsall, on the edge of the Bolton Abbey Estate. Surrounded by rolling hills, country lanes, and historic dry stone walls, this hotel offers a peaceful escape in the heart of Yorkshire. With free WiFi and parking available, guests can easily explore the many ancient castles, country houses, and UNESCO World Heritage Sites that are within a 30-minute drive from the hotel. The Devonshire Fell boasts 16 individually-designed bedrooms with stunning views of the countryside. The vibrant and cosy reception area and bar provide a relaxing space to unwind with a drink. For dining options, guests can indulge in mouth-watering dishes made using locally sourced produce at the 2AA Rosettes restaurant while enjoying striking views. This hotel is also ideal for walkers who want to explore the beautiful surroundings with their furry friends; dogs are welcome for an additional fee.
Pros:
– Charming location in Burnsall village
– Stunning views of Yorkshire countryside from many rooms
– Vibrant and cosy reception area and bar
– Mouth-watering dishes made using locally sourced produce at the restaurant
– Dog-friendly accommodation available for walkers
Swinton Park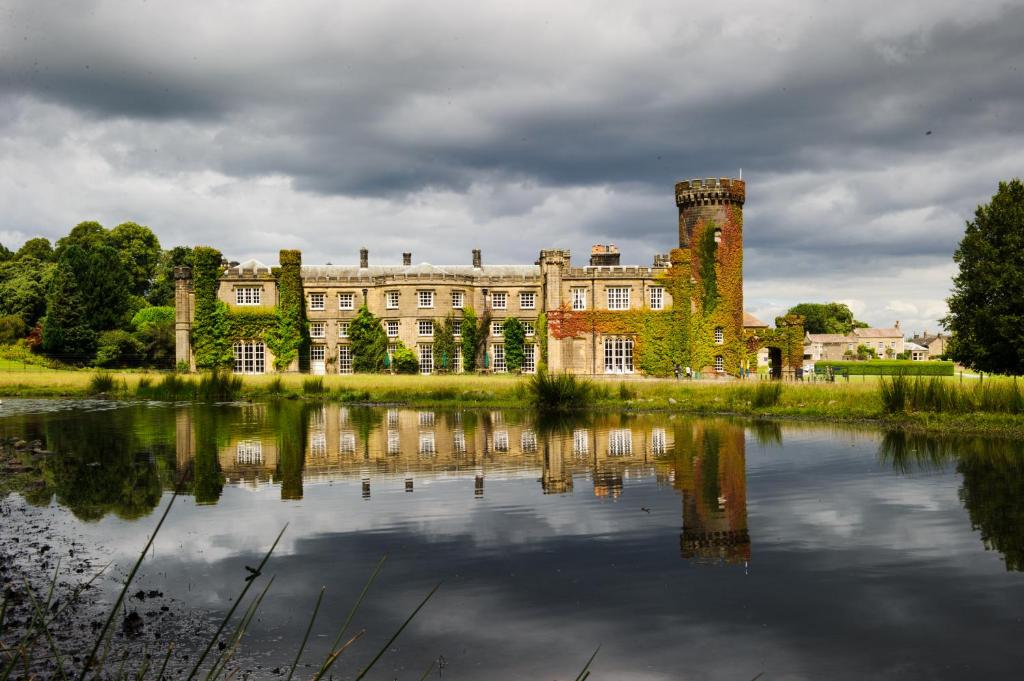 Swinton Park is a luxurious castle hotel located in Yorkshire, England. This exclusive 31-bedroom hotel has received prestigious accolades such as 4 Red Stars and 3 Rosettes from the AA, making it the highest rated hotel in the region. Set on a magnificent family estate encompassing beautiful countryside, rivers, moorland, and even a Bird of Prey Centre, guests have access to an array of outdoor activities. The ancestral home of the Cunliffe-Lister family, Swinton Park is surrounded by 200 acres of parkland, lakes, and gardens. The hotel also offers state-of-the-art facilities including a converted Georgian stables-turned-cookery school and five function rooms for events. For ultimate relaxation and wellness experiences, guests can indulge in the Spa and Country Club's amenities like an indoor pool, hydrotherapy pool, sauna, steam rooms, al fresco sauna and shower in the spa garden. With eight treatment suites offering various beauty treatments including manicures and pedicures; Swinton Park provides an enchanting haven for those seeking luxury accommodations within a castle setting.
Pros:
– Highest rated hotel in Yorkshire with excellent facilities
– Access to outdoor activities on the stunning family estate
– State-of-the-art cookery school for gastronomic enthusiasts
– Luxurious spa with various amenities including pools and treatment suites
– Beautifully preserved ancestral home set amidst expansive parkland
Downe Arms Country Inn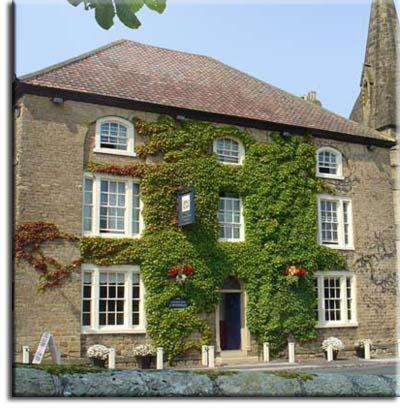 Located on the edge of the stunning Yorkshire Moors and just 10 km from the coast, Downe Arms Country Inn is a 17th-century former farmhouse that has been transformed into a charming hotel. With 10 unique en suite rooms, many retaining their original features, guests can enjoy a traditional and historical setting while indulging in modern comforts. The hotel is perfectly situated for exploring the natural beauty of the region, making it an ideal choice for walkers, cyclists, shooters, anglers or those seeking a peaceful break. Free parking and wireless internet access are available for guests' convenience. A full English breakfast is included in the price and can be enjoyed in the picturesque restaurant with its large Georgian windows offering beautiful views of Wykeham village and beyond. The restaurant serves both international favorites and traditional Yorkshire cuisine made with locally sourced seasonal produce.
– Excellent location on the edge of Yorkshire Moors
– Charming historic setting
– Individually decorated rooms with unique charm
– Cosy bar offering a range of beverages
– Picturesque restaurant with stunning views
Yorkshire Castle Hotels Information
| | |
| --- | --- |
| 🛎️ Castle Hotels in Yorkshire | 9 |
| 💰 Hotel prices starting from | $206 |
| 🥇 Average Review Score | 8.6/10 |
| 🛏️ Average number of Rooms | 33 |
| ⭐ Number of Hotels Reviews | 263 |
Top Castle Hotels in Yorkshire
| | |
| --- | --- |
| The Grainary Boutique Hotel | 9.4/10 |
| Goldsborough Hall | 8.8/10 |
| Swinton Park | 8.8/10 |
| The Devonshire Fell Hotel | 8.7/10 |
| Rogerthorpe Manor Hotel BW Signature Collection | 8.5/10 |
FAQ
What are some popular castle hotels in Yorkshire?
Yorkshire is home to several stunning castle hotels. Some of the most popular ones include Swinton Park, Hazlewood Castle, and Ripley Castle. These castles have been beautifully restored and offer luxurious accommodations with a touch of history.
Can I have a wedding at a castle hotel in Yorkshire?
Yes, many castle hotels in Yorkshire offer wedding packages for couples looking for a fairytale setting for their special day. From elegant ceremonies in grand halls to outdoor receptions in picturesque gardens, you can create your dream wedding at one of these stunning castles.
Do castle hotels in Yorkshire have modern amenities?
While castle hotels retain their historic charm, they also provide modern amenities to ensure a comfortable stay for guests. Expect facilities like en-suite bathrooms, Wi-Fi access, flat-screen TVs, and even spa services. You can enjoy the best of both worlds – luxury and convenience.
Are there any activities or attractions near castle hotels in Yorkshire?
Absolutely! Beyond the enchanting ambience of the castles themselves, there are plenty of activities and attractions nearby to explore during your stay. From visiting historical sites like York Minster and Fountains Abbey to enjoying scenic walks through the countryside or indulging in local culinary delights at charming restaurants – you'll never be bored!
Is it expensive to stay at a castle hotel in Yorkshire?
The cost of staying at a castle hotel in Yorkshire can vary depending on factors such as location, size of the room or suite, seasonality, and included amenities. Generally speaking though, staying at a castle hotel is considered a luxury experience and prices reflect that. However, keep an eye out for special offers or off-peak deals that may make it more affordable to live like royalty for a night or two!
Popular Castle Hotels destinations