Welcome, wanderers, to the enchanting realm of castle accommodations nestled amidst the picturesque landscapes of bonnie Scotland. Immerse yourself in a bygone era as we embark on a journey through time, exploring the regal opulence and storied tales of Castle Hotels in the United Kingdom. From majestic fortresses perched atop rugged cliffs to ancient strongholds nestled within lush Highland glens, these castles have gracefully transformed into idyllic havens for those seeking an extraordinary escape.
Prepare to be awestruck as you step foot into these resplendent edifices that breathe life into the pages of history. Each castle exudes its own unique charm and character, boasting magnificent architecture adorned with turrets, battlements, and ivy-clad walls. Be transported back in time as you traverse grand halls adorned with antique tapestries and elegant furnishings that speak volumes about their noble pasts. Delight in luxurious suites fit for royalty, offering breathtaking vistas that stretch across verdant valleys or mist-shrouded lochs.
Indulge your senses with exceptional amenities and impeccable service while savoring delectable culinary delights inspired by traditional Scottish fare. Unleash your inner adventurer as these castles are often surrounded by sprawling estates ripe for exploration – whether it's embarking on exhilarating outdoor pursuits or simply taking leisurely strolls amidst manicured gardens bursting with vibrant blooms. Soak up the rich heritage and untamed beauty that permeates every stone wall and secret passageway of these captivating Castle Hotels; a truly unforgettable experience awaits those who dare to escape reality within their hallowed halls.
Top Hotels in Castle in Scotland
Skeabost House Hotel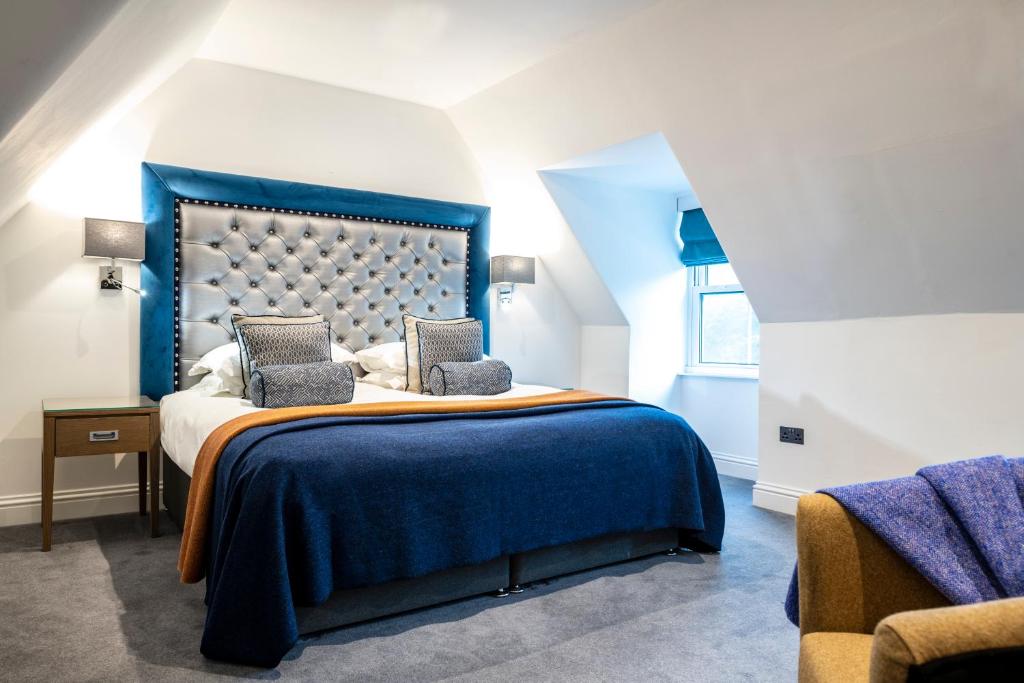 Located in Skye, the historic Skeabost House Hotel offers luxury accommodation and warm Highland hospitality. This family-owned boutique hotel is part of the Sonas Hotel Collection and is set in its own private grounds with breathtaking views across Loch Snizort. The West Pier Restaurant serves delicious Island cuisine made from locally sourced ingredients, while the panelled dining room, billiard room with chapel, and West Pier Restaurant with dance floor are perfect for hosting traditional Highland weddings. With 20 unique en-suite bedrooms, including contemporary deluxe rooms and romantic four poster rooms with period features, there is a suitable option for every guest. Families will particularly enjoy the newly opened Tower Suite with bunk beds for children, and dogs are welcome upon request. The hotel also boasts 8 miles of salmon and trout fishing on the River Snizort for outdoor enthusiasts. Guests can indulge in homemade afternoon tea by the open fire in the elegant lounge or enjoy a local malt at the cocktail bar while soaking up views of Loch Snizort from the patio. Whether you're looking to explore Skye's attractions or simply relax in opulent surroundings, Skeabost House Hotel offers a memorable experience year-round.
– Stunning location overlooking Loch Snizort
– High-quality Island cuisine made from locally sourced ingredients
– Perfect venue for traditional Highland weddings
– Variety of unique en-suite bedrooms to suit different preferences
– Fishing opportunities on the River Snizort
Fonab Castle Hotel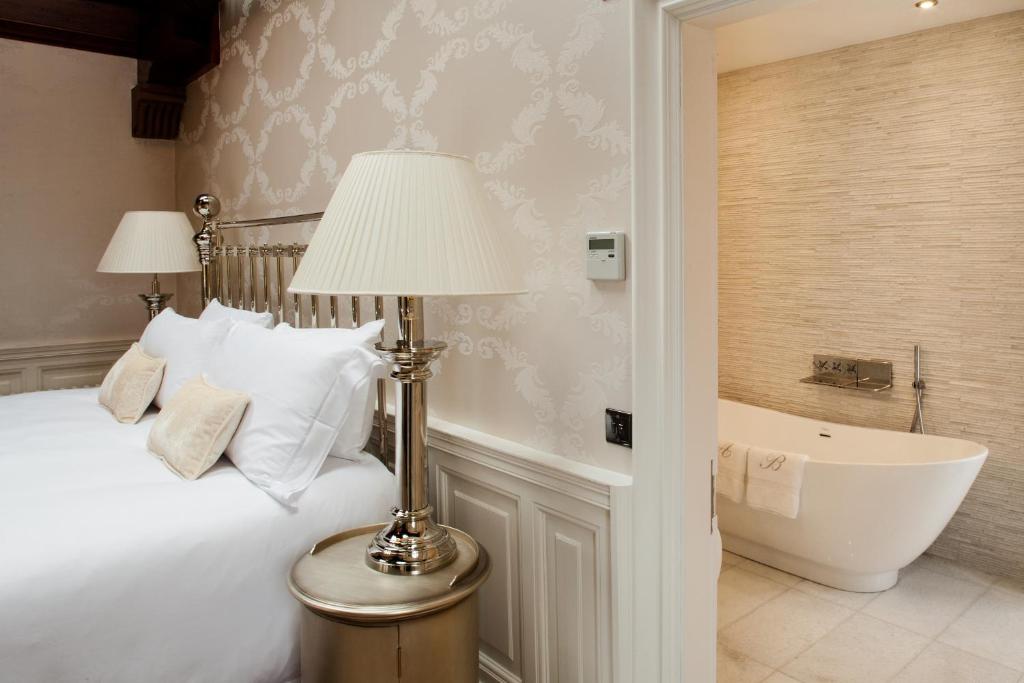 Nestled in the breathtaking Scottish Highlands, Fonab Castle Hotel is a luxurious retreat that captures the essence of historic charm with its refurbished castle dating back to 2013. The hotel features beautifully designed rooms that seamlessly blend contemporary style with original features, offering a truly unique and comfortable stay. Guests can enjoy stunning views of the scenic surroundings, explore the mature gardens, and take advantage of modern amenities such as free WiFi and parking. The hotel boasts two exceptional restaurants; Fonab Brasserie for lighter meals, and Sandemans Fine Dining Restaurant for an elegant culinary experience. For outdoor enthusiasts, Pitlochry Golf is just a short drive away, while Gleneagles – famous for its rich history – is within reach at 40 miles from the hotel. Every guestroom offers an en suite bathroom with a spacious walk-in power shower, bathrobes, slippers, and luxurious Thierry Mugler toiletries. Additional comforts include luxury Egyptian cotton bedding, a flat-screen smart TV with Revo entertainment system, Nespresso coffee maker, tea making facilities, fresh fruit and mineral water. Some rooms also provide breathtaking views of Loch Faskally or the majestic Highlands landscape. On sunny days or warm evenings, guests can indulge in al fresco dining on the terrace overlooking the loch or head to the cellars where an impressive selection of wines, whiskies and gins await them. Additionally,the property offers Pods for those seeking a unique inside/outside dining experience.
– Refurbished castle with luxurious rooms
– Stunning views of Loch Faskally or Highlands' landscape
– Mature gardens to explore
– Two exceptional on-site restaurants offering diverse culinary experiences
– Modern amenities including free WiFi and parking
Monachyle Mhor Hotel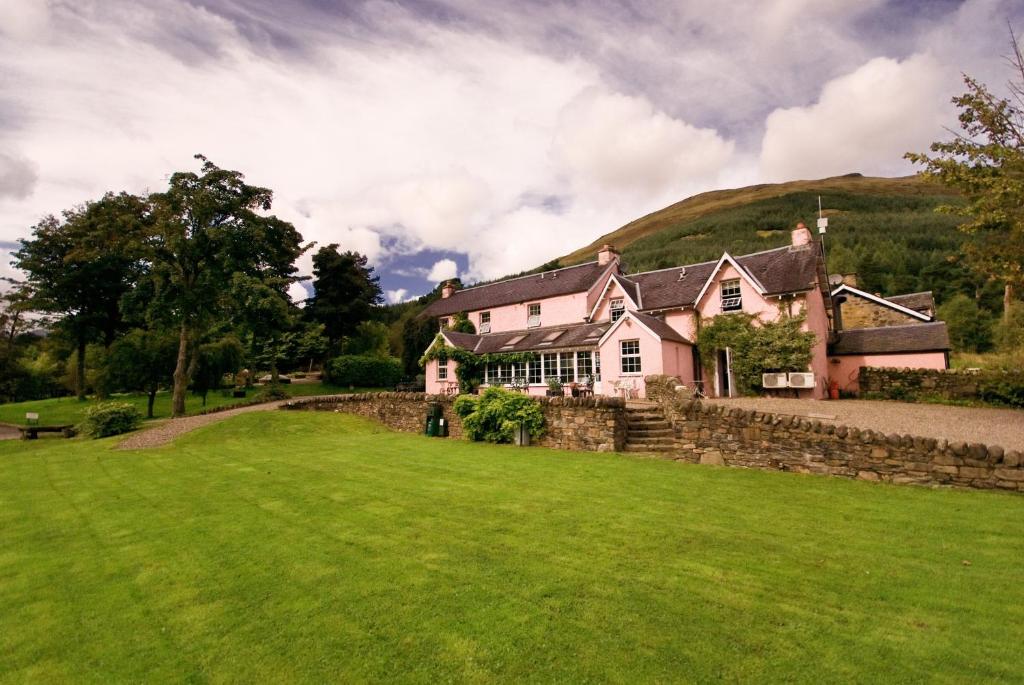 Nestled on the picturesque banks of Loch Voil in the stunning Loch Lomond and Trossachs National Park, Monachyle Mhor Hotel is a luxury boutique hotel that offers a unique and unforgettable experience. Each room in this charming 18th-century property is individually styled and features luxurious amenities, including LCD TVs and beautifully designed bathrooms. The hotel takes pride in its farm-to-table approach, serving delectable dishes created using locally sourced produce from the estate. Guests can indulge in a varied and seasonal menu at the award-winning restaurant, where they can savor mouthwatering pork from the Lewis family's farm. With breathtaking views of either the Loch or the surrounding mountains, guests are surrounded by natural beauty that invites exploration. For those looking to venture further afield, an award-winning fish restaurant owned by the same family awaits just 30 minutes' drive away in Callander. Monachyle Mhor Hotel seamlessly blends tradition with contemporary design through its use of slate, wood, and local stone throughout its rooms and public areas. To complement their dining experience further, guests can choose from an expertly curated wine list featuring bottles perfectly matched to their chosen dishes.
– Picturesque location on the banks of Loch Voil
– Individually styled rooms with luxurious amenities
– Farm-to-table dining experience using produce from the estate
– Breathtaking views of either Loch or mountain scenery
– Blend of tradition and contemporary design elements within hotel
Other places to stay in Scotland
Castle Hotels in Downtown Scotland
Castle hotels in downtown Scotland offer a unique and opulent experience, with their rich history and majestic architecture. Guests can immerse themselves in the charm of medieval times while enjoying modern comforts, making for an unforgettable stay.
Royal Golf Hotel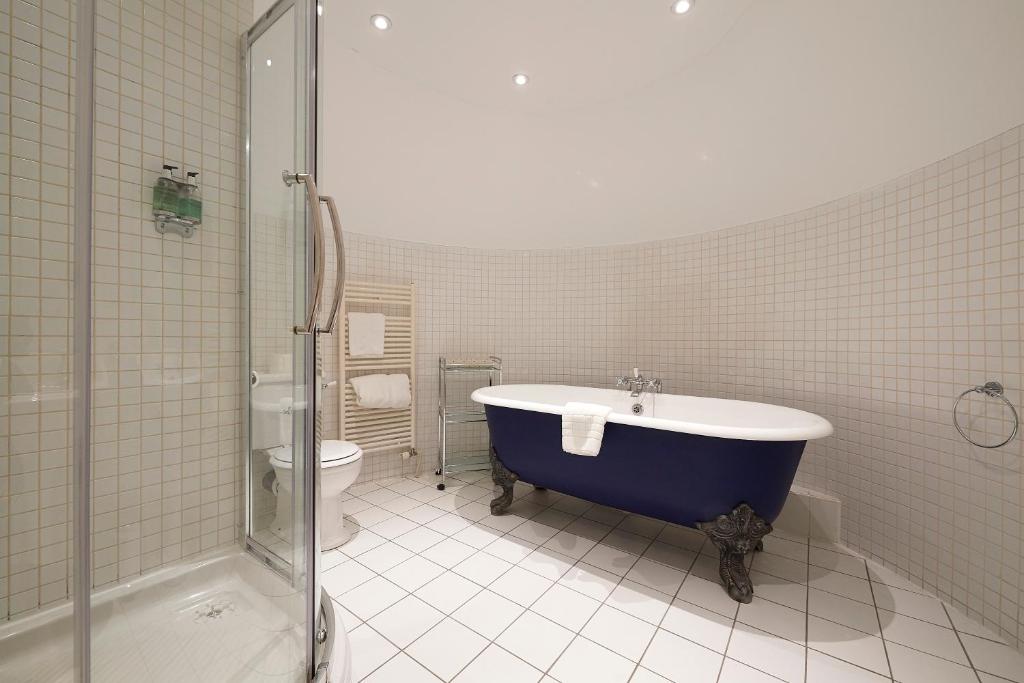 The Royal Golf Hotel is a charming castle hotel situated overlooking the first tee of the prestigious Royal Dornoch Golf Club. With many rooms offering stunning views of the golf course and the sea, guests can enjoy a tranquil and picturesque setting. While the area is renowned for its hiking and fishing opportunities, history enthusiasts will appreciate a visit to Dornoch Cathedral, which dates back to the 13th century. The hotel offers a delightful dining experience with its full Scottish breakfast and Conservatory Restaurant, where guests can savor a wide variety of dishes made from fresh, local and seasonal ingredients while enjoying panoramic views. Wine connoisseurs can indulge themselves at Morris Bar, where an extensive selection of wines from around the world awaits alongside over 35 malt whiskies. Golf enthusiasts will be in paradise as not only is the famous Royal Dornoch Golf Club within easy reach but there are also 20 other golf courses just an hour's drive away. Conveniently located just over an hour's drive from Inverness Airport and only 20 minutes' drive from Tain Railway Station, The Royal Golf Hotel provides both comfort and accessibility for travelers.
– Stunning views of golf course and sea
– Full Scottish breakfast served
– Panoramic views at Conservatory Restaurant
– Extensive wine collection at Morris Bar
– Conveniently located near top-ranked golf courses
Murrayshall Country Estate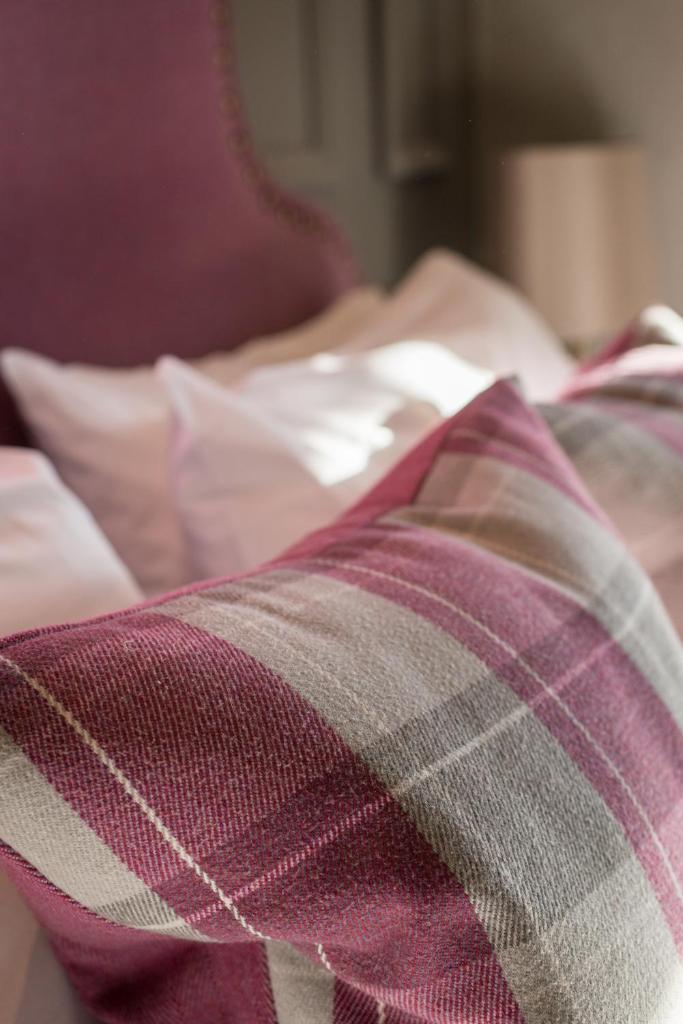 Located in Perth, Murrayshall Country Estate is a charming hotel set amidst picturesque surroundings. Just a short distance away, guests can visit popular attractions such as Scone Palace, Perth Concert Hall, and St Ninian's Cathedral. The estate offers an array of outdoor activities both on and off-site including mapped walks and two beautiful parkland golf courses. The friendly reception team is always on hand to provide helpful information about the area. Each room at Murrayshall comes with modern amenities including a wardrobe and flat-screen TV. Some rooms even offer lovely garden views. Guests can start their day with a delicious Full English/Scottish breakfast at the on-site restaurant which specializes in British cuisine. Edinburgh Airport is the nearest airport to the estate, located 52 km away.
– Stunning parkland golf courses
– Beautiful countryside setting
– Helpful and friendly staff
– Delicious Full English/Scottish breakfast served daily
– Convenient location for exploring nearby attractions
Glenapp Castle (Ballantrae)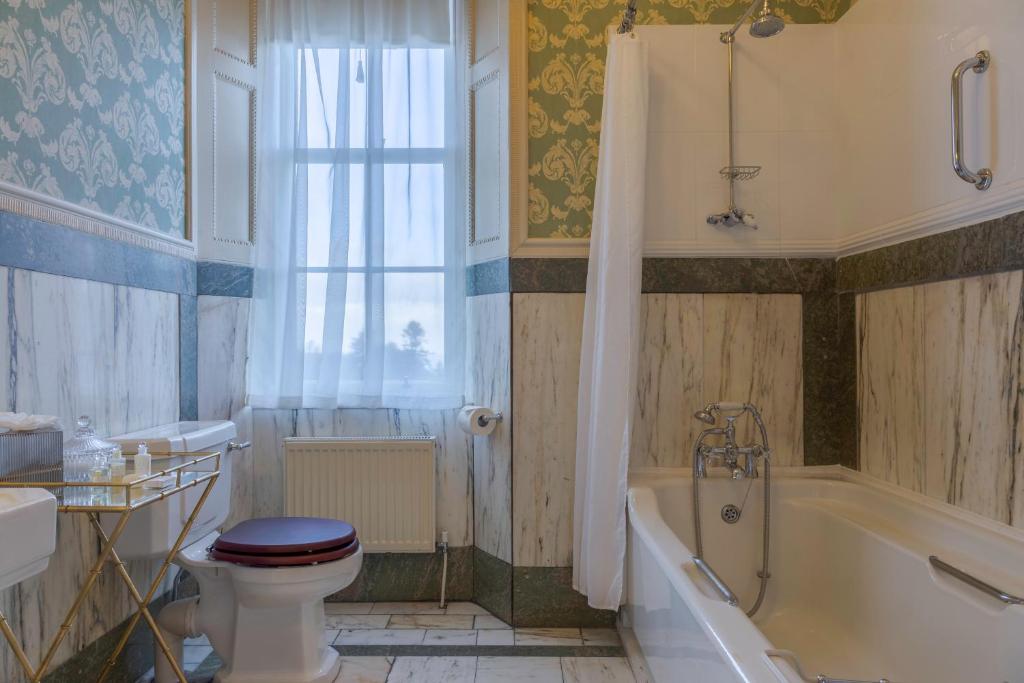 Located between Stranraer and Girvan, Glenapp Castle in Ballantrae is a truly luxurious destination that offers guests an unforgettable experience. Situated within 36 acres of beautifully manicured gardens and woodland, this 5-star South Ayrshire hotel dates back to 1870 and boasts a range of exquisite amenities. Guests can indulge in the award-winning restaurant, which serves gourmet 6-course dining and indulgent afternoon tea. The hotel also provides free on-site parking and Wi-Fi for convenience. Each of the rooms and suites at Glenapp Castle features elegant furnishings, including a flat-screen TV with DVD player, trouser press, desk, alarm clock, safe, seating area, and tea/coffee facilities. The en suite bathrooms are equipped with a bath, shower, hairdryer, bathrobe, and complimentary toiletries. Notably, many rooms offer stunning views of either the sea or gardens. For those looking to explore the surrounding area during their stay at Glenapp Castle Hotel in Ballantrae, Galloway Forest Park is just a short drive away (approximately 35 minutes). Additionally,Ayr,Troon,and Prestwick Airport are all within approximately one hour's drive north of Ballantrae.
– Luxurious accommodation set within beautiful gardens and woodland
– Award-winning restaurant serving gourmet cuisine
– Free on-site parking & Wi-Fi
– Elegant rooms with modern amenities
– Convenient location for exploring Galloway Forest Park
Cheap Castles to Stays in Scotland
Scotland offers a range of affordable castle stays for travelers seeking a unique experience on a budget. These charming castles boast rich history and stunning landscapes, allowing guests to immerse themselves in Scotland's culture without breaking the bank.
Inverlochy Castle Hotel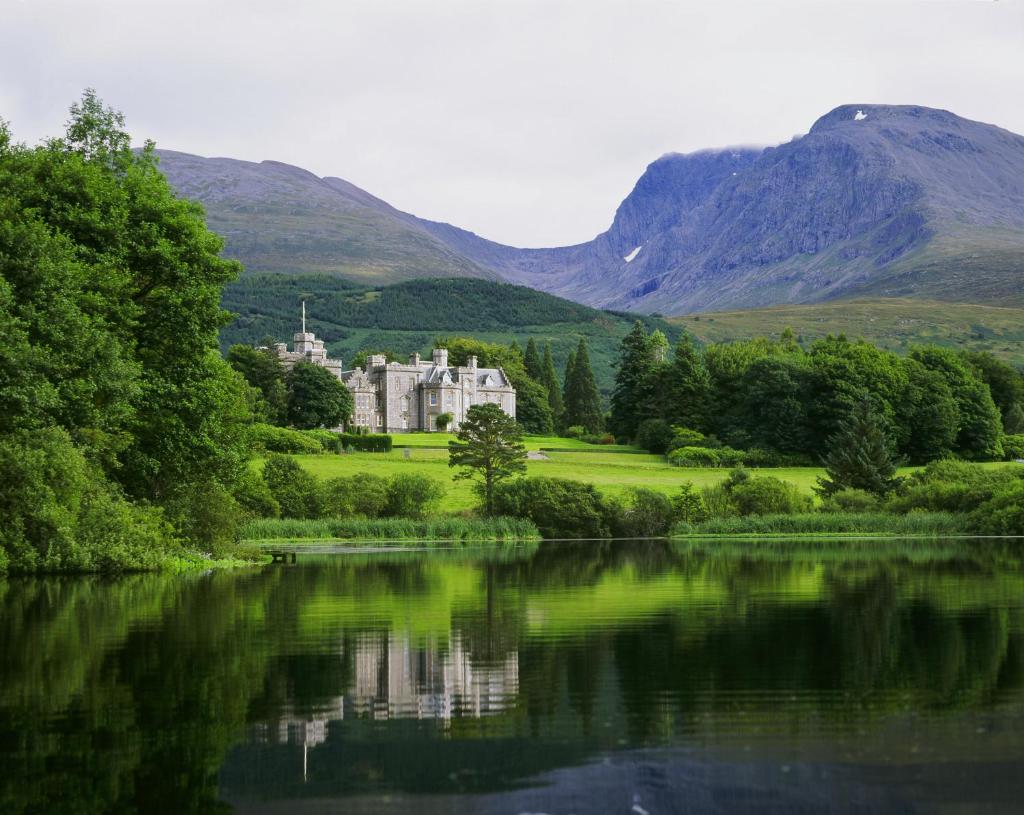 Located in the stunning Scottish West Highlands, Inverlochy Castle Hotel is a 19th-century country house that offers unparalleled luxury and a fine dining experience. Just 6.4 km away from Fort William town centre, this award-winning hotel boasts individually designed rooms with opulent decor and modern amenities such as TVs, CD players, and private bathrooms. With its AA 3 Red Rosettes accolade, the hotel's restaurant serves up delicious modern British cuisine that has gained international recognition from major guides. Guests can also request a DVD player or Play Station 2 to enhance their entertainment options. The hotel provides striking mountainside views for guests to enjoy and offers various leisure activities including tennis, fishing, and clay pigeon shooting. Free WiFi internet access and parking are also available.
– Beautiful location amidst the Scottish West Highlands
– Award-winning restaurant serving internationally recognized cuisine
– Individually designed rooms with sumptuous decor
– Various leisure activities including tennis, fishing, and clay pigeon shooting
– Free WiFi internet access and parking provided
Cromlix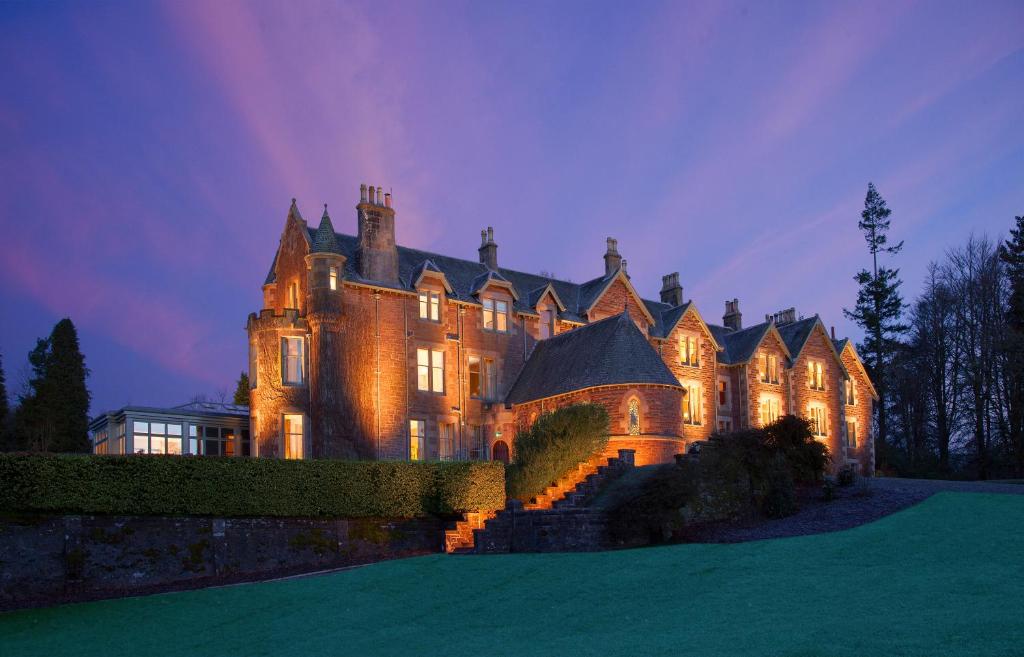 Located in 34 acres of private woodlands and gardens, Cromlix Hotel offers a luxurious retreat with a range of amenities for guests to enjoy. Owned by tennis superstar Andy Murray, the hotel features tennis courts and a nearby loch for fishing. Each room is equipped with modern comforts such as free Wi-Fi, an en suite bathroom, a flat-screen TV, and an iPod docking station. Guests can also relax by the open log fires or indulge in a full Scottish breakfast made with local produce. The hotel offers activities like archery, falconry displays, and in-room spa treatments. There is also a full-sized billiard table for guests to enjoy. For golf enthusiasts, the cathedral city of Dunblane and its 18-hole golf course are just a short drive away.
Pros:
– Beautiful secluded location surrounded by woodlands
– Owned by tennis superstar Andy Murray
– Range of on-site activities available including archery and falconry displays
– Delicious locally sourced food options for breakfast and afternoon tea
– Close proximity to Dunblane's 18-hole golf course
Royal Mile Balconies by the Castle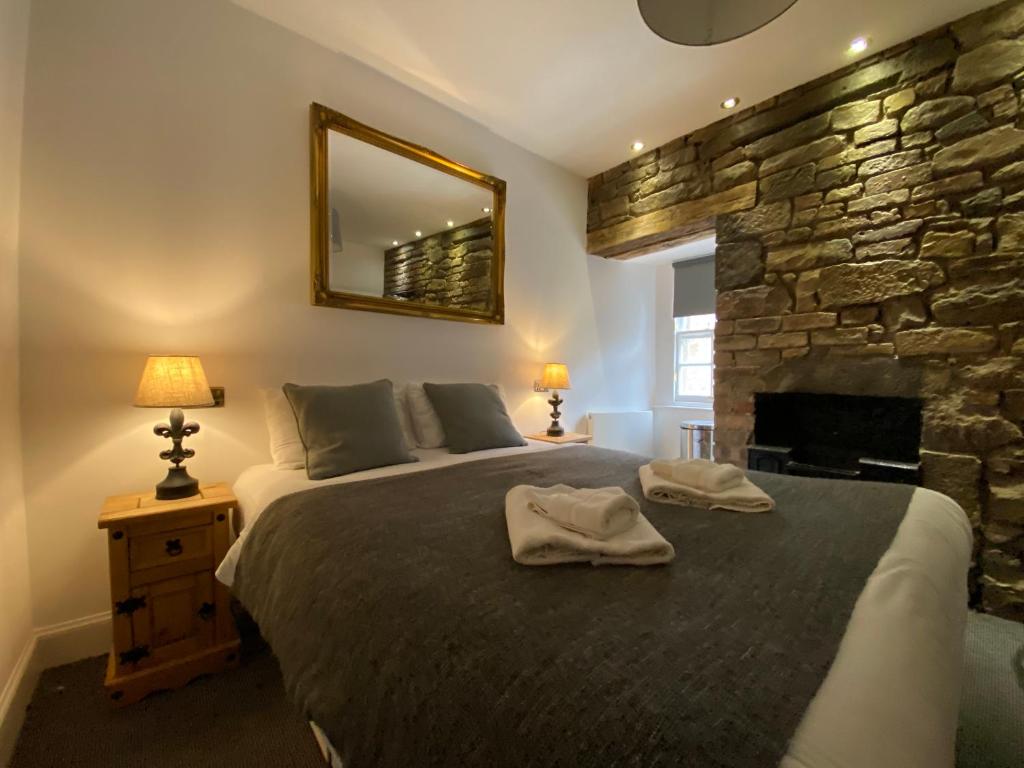 Royal Mile Balconies by the Castle is a charming castle hotel located directly on the historic Royal Mile in Edinburgh. Housed within one of Scotland's oldest buildings, dating back to the 15th century and once home to renowned Scottish philosopher Sir David Hume, this luxurious property offers an authentic and immersive experience. Boasting six beautifully appointed rooms featuring king-size beds, LCD TVs, and complimentary high-speed Wi-Fi, each room has its own unique decor and original private bathroom with a spacious shower. Situated just 300 meters from the Edinburgh Military Tattoo and a mere 200 meters from Edinburgh Castle, guests can enjoy stunning views of the historic courtyard or across the picturesque Old Town. Immerse yourself in Scottish history at Royal Mile Balconies by the Castle.
– Convenient central location on Royal Mile
– Unique historical building with rich heritage
– Stylishly decorated rooms with modern amenities
– Spectacular views of Edinburgh's Old Town
– Close proximity to popular attractions such as Edinburgh Castle
Scotland Castle Hotels Information
| | |
| --- | --- |
| 🛎️ Castle Hotels in Scotland | 9 |
| 💰 Hotel prices starting from | $273 |
| 🥇 Average Review Score | 8.7/10 |
| 🛏️ Average number of Rooms | 25 |
| ⭐ Number of Hotels Reviews | 155 |
Top Castle Hotels in Scotland
| | |
| --- | --- |
| Cromlix | 9.2/10 |
| Fonab Castle Hotel | 9/10 |
| Monachyle Mhor Hotel | 9/10 |
| Glenapp Castle (Ballantrae) | 8.9/10 |
| Inverlochy Castle Hotel | 8.8/10 |
FAQ
1
What are some popular castle hotels in Scotland?
The city of Scotland in the United Kingdom offers a plethora of exquisite castle hotels that cater to luxury travelers. One popular choice is Dalhousie Castle located just outside Edinburgh. This 13th-century fortress turned hotel boasts stunning rooms, a spa, and even its own falconry experience. Another option is Inverlochy Castle Hotel in Fort William, renowned for its breathtaking setting amidst the Scottish Highlands. With elegant interiors and impeccable service, it promises an unforgettable stay.
2
Are castle hotels in Scotland family-friendly?
Absolutely! Many castle hotels in Scotland warmly welcome families and offer a range of amenities suitable for all ages. For example, Ackergill Tower near Wick provides spacious family suites as well as exciting activities like archery and treasure hunts within their extensive grounds. Additionally, Balfour Castle in Orkney offers dedicated children's play areas and outdoor adventures such as kayaking and wildlife spotting, ensuring an enjoyable stay for the whole family.
3
Do castle hotels offer fine dining options?
Yes, most castle hotels in Scotland pride themselves on their exceptional culinary offerings. Many have award-winning restaurants that serve gourmet dishes prepared with locally sourced ingredients. One such gem is Glenapp Castle Hotel situated on the Ayrshire coast, boasting a Michelin-starred restaurant renowned for its innovative menus showcasing the finest Scottish produce.
4
Can guests participate in activities at castle hotels?
Certainly! Castle hotels provide a range of activities to enhance your stay and allow you to immerse yourself fully in the rich history and natural beauty of Scotland. From guided tours of ancient ruins to whiskey tastings and traditional Highland games demonstrations – there's something to suit all interests at these majestic properties.
5
Are there any special events or celebrations hosted at castle hotels?
Yes, many castle hotels host special events throughout the year ranging from themed dinners to festive celebrations like Christmas and Hogmanay (Scottish New Year). These events provide an opportunity to indulge in the unique charm of Scottish traditions while enjoying the luxurious ambience of a castle hotel. It's advisable to check with the specific property for any upcoming events during your visit.
Popular Castle Hotels destinations